Patronal Flower Festival
We look forward to welcoming you to our 2023 Flower Festival!
A flower festival is held each year in the church to celebrate the Holy Trinity, to which the church is dedicated. It runs concurrently with the village well dressings.
The theme for 2023 is "Children's Story-Time".
2023 Dates:
Saturday June 3, 2023 to Sunday June 11, 2023, 10.30 am – 7.00 pm every day.
Sunday June 11, 2023 at 5.30 pm: Flower Festival Closing Service
2022 Flower Festival Retrospective:
In 2020 we we had planned to celebrate the 150th anniversary of the 1870 re-opening of the church after an extensive re-ordering instigated by the Revd John Reddaway Luxmoore, who was the vicar of Holy Trinity church for 52 years. Because 1870 was the Victorian era, we had chosen our theme 'The Victorians' to reflect their loves and achievements, many of which are still with us today. However, COVID changed all that! So we decided to stay with this theme for 2022.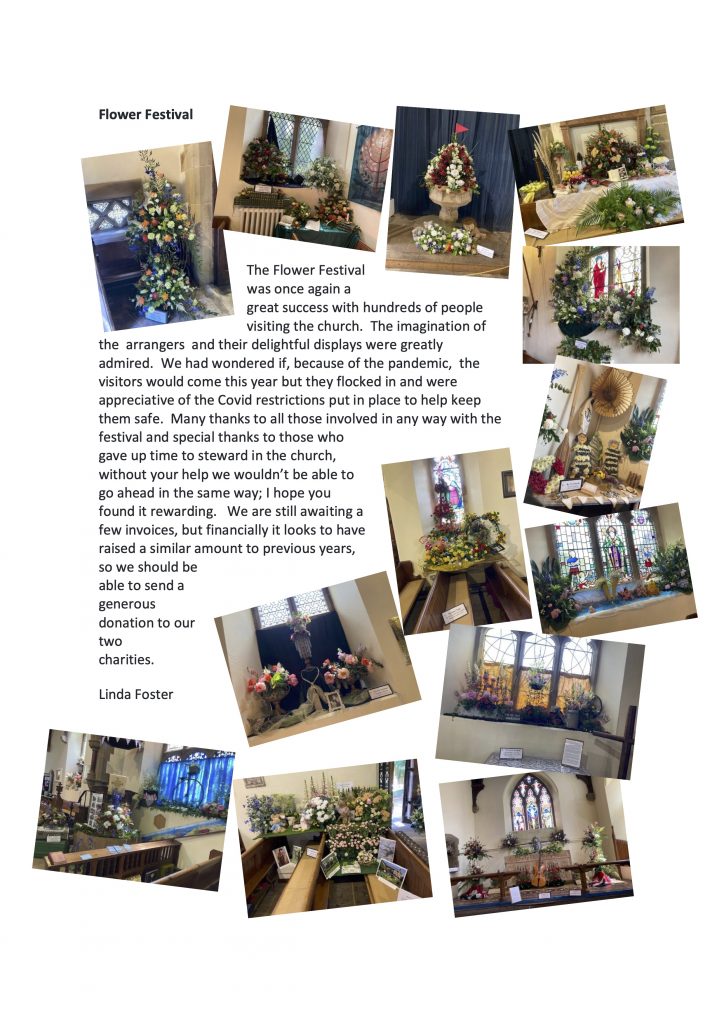 Previous themes have included: 'Nursery Rhymes and Poems'; 'Bible Stories'; 'Music, Music, Music'; 'An Invitation to a Wedding'; 'Memories of Chidhood'; 'Gemstones of the Bible; 'The Queen – 60 Glorious Years'; 'Old Ashford; 'The Creation'; '2015 – A Year of Anniversaries'; '2016 – The Year of the Garden';'Celebrating Northern Towns and Cities' and 'The Commonwealth' and 'Out and About in the Peak District'
All donations made in church are divided between the church and a charity. Money raised for the church has contributed towards the cost of a new organ blower, the new lighting system, repairs to the porch roof, the chancel roof and to the south-side of the nave roof. For several years Holy Trinity supported the Sallay Koroma Orphanage in Sierra Leone sending over £8000 to them. Once the orphanage was well established, we changed our chosen charity and were able to send £1,500 to 'Combat Stress', a charity which supports war veterans suffering from psychological injury. For last three years we have sent £1,500 each year to 'Helen's Trust' a local charity which enables the terminally ill to have the choice to be looked after in their own homes.
The village Well Dressing also takes place at the same time. The wells will be dressed using flower petals, seeds and other natural materials to produce amazing pictures and texts.

Many thousands of visitors come to the village each year, to see the beautiful floral arrangements in the church and to visit the wells; do come along and join us, we'd love to meet you!